Just another snydle.com Sites site
Top 12 Simple Healthy Eating Tips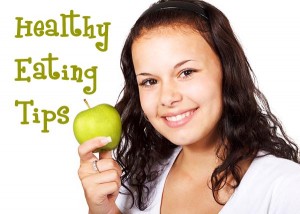 Staying healthy and fit is one of the requisites of good life. With the increasing external factors like pollution and daily stresses of life as well as internal issues of unhealthy eating and lack of activity, more and more people are facing health crises in the form of illness and severe health issues. However, one has to understand that even if the external factors are not in our control, the internal factors are. Unhealthy eating can be avoided and healthy habits can be incurred in the daily routine. This is not as difficult as it seems. Simple healthy eating habits will help you achieve the goals in a perfect way and make you stay fit and active for facing the struggles and challenges of life.
This health guide is a perfect escape from research and gives you some top tips and suggestions that can be used without any doubts for a healthy lifestyle. Check them out and make some picks to start with. The change will definitely be positive.
1. Drink Plenty of Water
One of the first basic steps towards healthy eating is to manage the levels of water in the body. For your information, water is one of the best ways to cleanse the system from toxins and dirt. It also regulates the functions of the body and improves the blood circulation. It activates the hair follicles and cleans the skin. There are innumerable health benefits attached to drinking water. Therefore as one of the first healthy eating tips, make sure you consume at least 10-12 glasses of plain and filtered water each day.
2. Balance the Calorie Intake
It is important to consume only that number of calories that you can burn as energy. The rest of it gets accumulated in the body as fat which is not at all healthy. This solely means that you need to balance the calorie intake according to your weight, height and even health conditions. Eating low levels of calories on the other hand will make you weak and under weight. According to professionals, about 2500 calories are needed by a man and 2000 calories by a woman on a daily basis. Try and strike the right balance in this regard as a healthy eating tip.
3. Get Variety in the Meals
Another of the significant healthy eating tips says that one should have a wide variety in their meals. By having a good range of foods in the daily meals, you will be assured that the diet is a balanced one with all the nutrients including minerals required by the body. This is one of the most important things to do when it comes to eating habits that are healthy and will keep you fit. For the body the work in proper conditions, one needs to fulfill all nutrient needs including the major ones like carbohydrates, protein, calcium and vitamins as well as minor ones like iron, potassium, zinc and more.
4. Include Good Amounts of Fresh Fruits and Vegetables
This is one category of food that is never enough for the body. Along with providing vitamins and minerals, they also provide fibre and antioxidants that help in keeping the body in perfect condition. Fruits and vegetables that are seasonal are loaded with benefits for the body and how to keep it in the right conditions. At least 3-4 portions of fruits and 3-4 of vegetables should be a part of the diet. Apart from that, you can consider fresh fruits juices and vegetable soups as well. This will help you achieve the aims faster.
5. Minimize the Fat
This is especially valid for saturated fats that are unhealthy for the body and accumulates to lead you towards over weight issues. In simple terms, animal fat should totally be minimized in the meals along with the ones in chocolate, fried foods, biscuits, cookies and cakes. It deposits in the muscles and thus leads to the problem of cholesterol as well. Polyunsaturated and monounsaturated fats can be taken in small amounts as they are healthy and provides some vitamins to the body. Nuts, olive oil, avocados are some of the examples that have monounsaturated fats that help in keeping the cholesterol under control.
6. Cut Down on Alcohol
Alcohol have negative effects on the body and should be taken in as minimal amounts as possible. A drink a day is perfect for women and two for men. This is ideal for keeping the body in fit conditions. Excessive alcohol will only make the body weak and affect the functioning of various organs of the body. One should also stay away from habits like smoking that has a list of negative effects on the body. It weakens the organs and lead to severe health problems.
7. Breakfast is Important
Many people tend to skip breakfast with the stereotype that it will help in maintaining the right body weight. It has been seen that people and children who skips breakfast is weaker and have low levels of immunity. A healthy and scrumptious breakfast with good levels of nutrients is important to maintain a healthy body and have a good day. In fact, having a full meal at this time of the day will make you less hungry the entire day and thus help you eat less. It will also make you more productive at work and improve concentration levels.
8. Calcium and Iron Significance
Calcium is important for proper working of the bones and maintains good health whereas iron helps in carrying oxygen in the body and is another important nutrient. These two should be taken in suitable amounts each day so that the body functions in a perfect manner and keep you healthy. Some of the calcium rich foods are dairy products like milk, cheese, cottage cheese, yogurt and more. For iron you can have green leafy vegetables, pomegranates and more. Calcium and iron supplements can be taken after proper consultation from the doctor. This is especially valid for pregnant women.
9. Exercise and Physical Activity
There are no benefits of the food consumed if you do not burn them and transfer it to energy. This is possible only if you maintain a strict regimen of exercise and physical activity. This will help in burning of fat as well and the extra calories that you might have taken. It is important to have a 30 minute exercise routine each day for a normal person that increases for those who are overweight. You can do something as simple as walking and even your favourite sport activities, the choice is yours. Swimming, tennis, table tennis and badminton are some of the common sports that people do. Gym is another professional option for physical exercise in an effective way. Yoga and meditation can also be included to keep the mind healthy and at peace. These will improve the body strength levels as well.
10. Starchy Foods as the Meal Base
Starchy foods should be 1/3 of the amount of the daily meals according to the professionals and that is one of the steps towards healthy and proper eating habits. Cereals, rice, bread, pasta and potatoes are some of the good examples that you can consider. At least one starchy food should be considered per meal for achieving this goal. They are not fattening if you take it within the controlled amount and balance the calorie intake in the right way.
11. Avoid Night time Snacks
Snacks eaten during the hours of the night are the most fattening and leads to accumulation of calories in the body solely because we go off to sleep after that. This only means that one should not eat anything at this hour of the day. However, even if you do, make sure you have healthy options to consider rather than ones with saturated fats. Low calories snacks are available in the market that can be eaten but only on a minimum basis.
12. Have Smaller Meals
Rather than concentrating on large and heavy meals, it is always advisable to break it down into smaller meals for easy and proper digestion. According to diet professionals, it is advisable to eat every 2 hours and in small portions. This helps in keeping the body fit, healthy and active. Make sure you take only healthy foods even if you are taking small meals. Healthy foods and fruits are advisable in this case. Overeating is something that will only lead to obesity and overweight issues. It also slows down the process of digestion by the system.
These are some of the top notch healthy eating tips that every person, no matter what the age should adhere to. They should slowly include these ideas and suggestion in the routine one by one and ensure that everything is followed with due diligence. Finally everything comes down to good health and fit body. Only a healthy body, mind and soul can face challenges and have a smooth and hassle free life.
br>
By